Water Damage Cleanup Company in Sandy, UT
Have you experienced a water damage or sewage backup disaster in your home or business? Utah Restoration Pros is here to help with our round-the-clock emergency services. Our team of skilled technicians specializes in mitigating damages caused by various incidents, including sewer backups, storm damage, basement flooding, broken pipes, flash floods, and more. We understand the importance of a seamless process, which is why we are ready to work closely with your home insurance company from beginning to end. For fast and local Sandy, UT response, call our 24-hour hotline at (385) 488-5300.
Emergency Cleanup Service for Flooding and Storm Damage in Sandy, UT
If you've experienced water damage in your home or business, it is crucial to take immediate action by calling for assistance as soon as you become aware of the situation. The longer water remains on your property, the more extensive the damage will be to all aspects of your building. By acting promptly, you minimize the risk of further harm and increase the chances of a complete recovery. When water lingers, it infiltrates the structural materials, causing significant damage to the building's integrity. This weakened structure requires more extensive restoration work to fully recover. Additionally, prolonged water exposure creates an ideal environment for mold growth.
Sandy, UT Basement Flooding, Sewer Backups, Broken Pipe Disaster
As a business owner, it is crucial to address any water damage to your facility promptly while minimizing disruptions to your daily operations. When you reach out to Utah Restoration Pros, we provide efficient repair and restoration services for water or smoke damage, ensuring minimal downtime and preventing revenue loss. Regardless of the scale of property damage your business has encountered, we possess the necessary expertise and advanced equipment to handle the situation. Our dedicated professionals will closely collaborate with you and the building occupants throughout the restoration process, striving to minimize disruptions to your daily business activities. Time is of the essence when it comes to commercial water damage restoration. Our team understands the importance of a swift response to mitigate further damage and expedite the recovery process. By entrusting your restoration needs to Utah Restoration Pros, you can focus on running your business while relying on our expertise to restore your facility efficiently and effectively.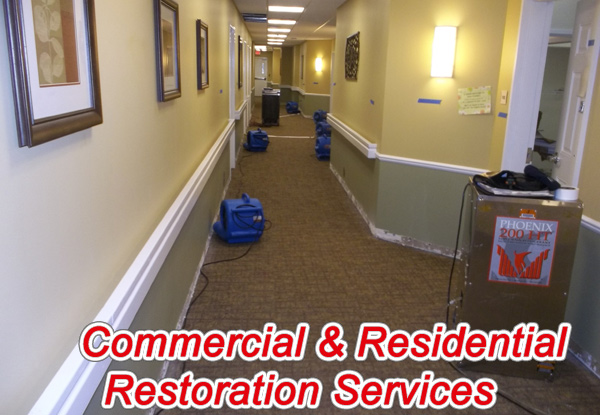 Mold thrives on porous materials and moisture, making a flooded basement particularly susceptible. Given that basements often serve as storage areas for personal belongings, we offer content restoration services to residents whose basements have been flooded. Our team can safely and efficiently dry out and restore your documents, photographs, and furniture at our offsite facility, ensuring they look as good as new in no time. At Utah Restoration Pros, we remain at the forefront of the water mitigation field, staying updated on the latest technologies and advancements. This commitment enables us to provide you with the utmost level of service and expertise when addressing your water damage needs.
At Utah Restoration Pros of Sandy, UT , we prioritize the significance of a swift response when it comes to restoring your property. Our dedicated team of professionals works tirelessly to ensure that your property is meticulously restored to its pre-loss condition, paying careful attention to every detail. We understand the impact of property damage on your daily life, and our commitment is to provide exceptional service and support to help you regain a sense of normalcy as quickly as possible. You can trust us to restore your property and bring you the peace of mind you deserve.
Frequently Asked Questions about Water Damage and Sewage Disasters

What are the Most Common Causes of Water Damage Disasters?

Is it safe to clean up sewage damage on my own?

Cleaning up sewage damage is not recommended as it poses significant health risks. Sewage contains harmful bacteria, viruses, and other pathogens that can cause serious illnesses. It is best to hire professionals experienced in handling sewage cleanup, equipped with the necessary protective gear and specialized equipment to ensure safe and thorough restoration.

How long does it take to clean up sewage damage?

The duration of sewage damage cleanup depends on various factors such as the extent of the damage, the size of the affected area, and the presence of hidden moisture. Generally, the cleanup process can take several days to a week. It includes extracting the sewage, disinfecting the area, removing contaminated materials, thoroughly drying the space, and conducting necessary repairs. A professional restoration team will provide a more accurate timeframe after assessing the specific circumstances of the sewage damage.

Will my insurance cover the costs of sewage damage cleanup?

In many cases, homeowner's insurance policies cover sewage damage cleanup and restoration. However, it is essential to review your policy and consult with your insurance provider to understand the extent of coverage. Document the damage, take photos, and keep records of all expenses related to the cleanup process. Additionally, professional restoration companies often assist in working with insurance companies to ensure a smooth and efficient claims process, minimizing your stress during this challenging time.